Classic Vespa Scooters for Sale
Classic Scooters UK Buy and sell only Authentic Classic Scooters from the late 1950's, 1960's and the 1970's. We are highly selective in our purchasing & endeavour to Sell Scooters with known BRITISH First Registered History or with Direct ITALIAN Import Proof. We GUARANTEE the Frame Authenticity of every Scooter we sell
We CATEGORICALLY REFUSE to deal with any Scooters knowingly Restored or Imported from Vietnam, Pakistan or Indonesia .
Specialists in the Sale of Genuine Vespa GS150, Vespa GS160 Mk1 & Mk2, Vespa SS180 and Vespa Rally Scooters.
Please see below for our current Authentic Piaggio/Douglas Vespa stock or contact us if you have a particular Vespa in mind and we will try out utmost to source one for you.
Please also contact us if you have a Classic Vespa you would like to sell - 'Barn finds' to complete restorations.
Vespa Scooters Currently FOR SALE:
1957 PIAGGIO VESPA VB1T 'CLUBMAN'
Price 1: £ 5,750
Price 2:
- Sale Type: 'CLIENT SALE'
- Frame Number : VB1 T 65447
- Superb Vespa VB1T 'Clubman' with good history
- Modern 'PX style' 150cc 12V engine fitted for Modern Reliability
- UK Registered & UK Restored
- Status: AVAILABLE TO VIEW NOW
- Please Contact us for more information & to arrange a viewing
- UK Delivery from £65
- Worldwide Shipping Available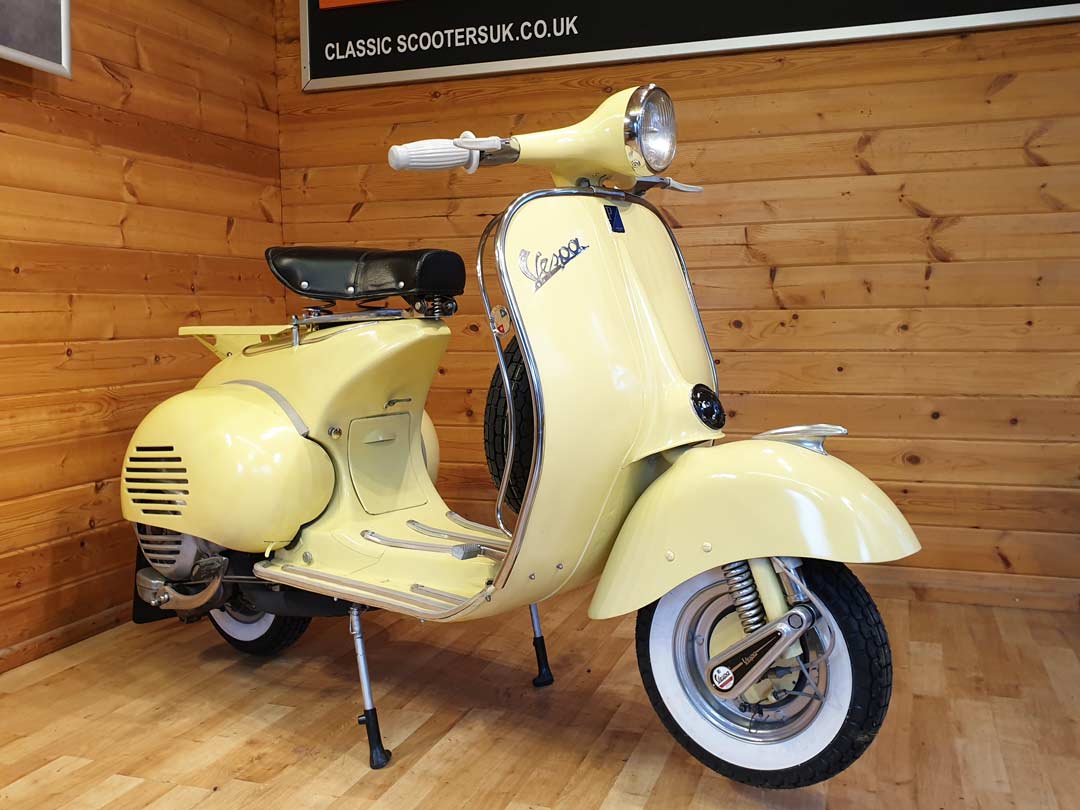 1965 PIAGGIO VESPA 125 ALLSTATE
Price 1: £ 3,950
Price 2:
- Sale Type: 'CLIENT SALE'
- Frame Number : VA14T 65447
- Engine Number: VNB5M 048887
- Rare American Market Piaggio Vespa ALLSTATE 125
- Sold by SEARS in the US in 1965
- Lovely Original Scooter with Original Handbook & US History
- Imported from the USA in 2004 - UK Registered
- Status: DEPOSIT TAKEN
- Please Contact us for more information & to arrange a viewing
- UK Delivery from £65
- Worldwide Shipping Available
1955 PIAGGIO VESPA VN1T 'FARO BASSO' 125CC For sale
Price 1: £SOLD
Price 2:
- Sale Type: 'CLIENT SALE'
- Frame Number : VN1T 030145
- Engine Number: VN1M 030567
- Italian Professional Restoration
- Italian owned Scooter Recommissioned for Family Wedding
- Simply Beautiful 'Roman Holiday Style' 1950's Vespa
- Status: AVAILABLE FOR VIEWING NOW
- Please Contact us for more information & to arrange a viewing
- UK Delivery from £65
- Worldwide Shipping Available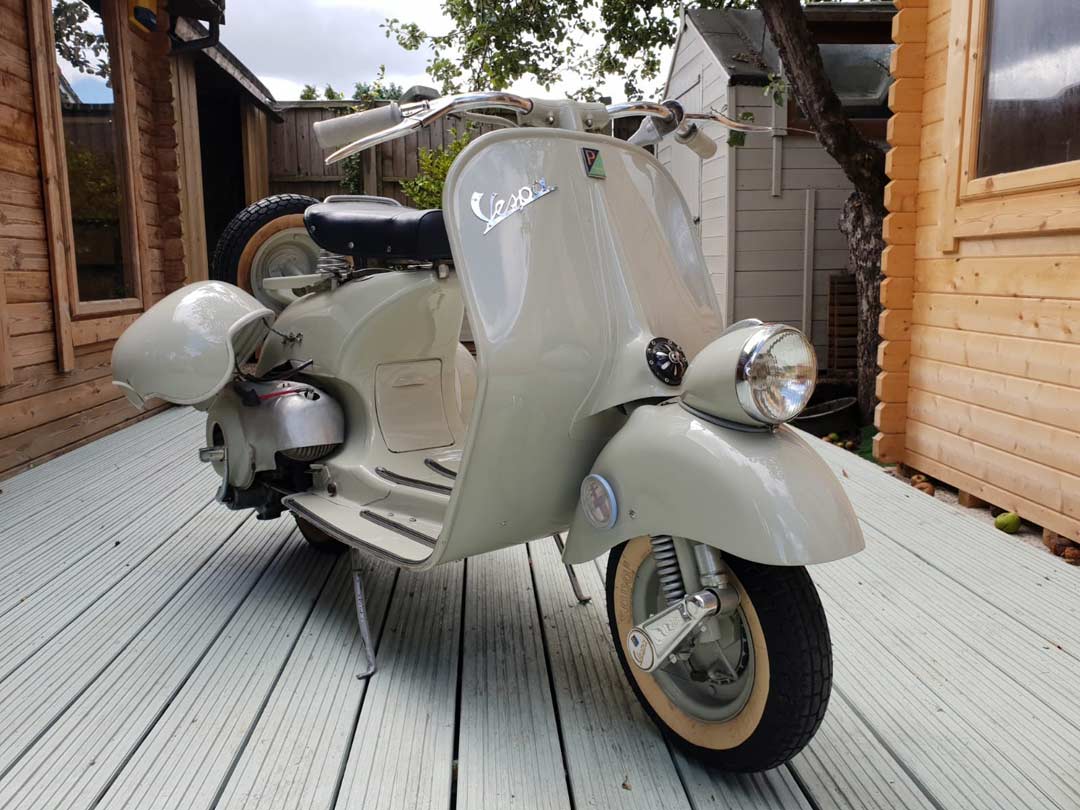 1965 PIAGGIO VESPA SS180 (200cc) 'Hurricane' For sale
Price 1: £ SOLD - SIMILAR SCOOTERS WANTED
Price 2:
- Sale Type: 'CLIENT SALE'
- Frame Number: VSC1T 004992
- Engine Number: VSC1M 005196
- Just Outstanding SS180 Previously sold by ourselves
- Superb UK History & Restoration by Highly Respected Rod Mathews of 'Scooter Mania'
- Rod has informed us that when he acquired the scooter in 2005/2006 it had the original Eddy Grimstead stickers showing
- Bespoke Florida bars and original Ken Cobbling Exhaust'
- Andy Dixon Custom Made Seat'
- Status: SOLD
- Please Contact us for more information & to arrange a viewing
- UK Delivery from £65
- Worldwide Shipping Available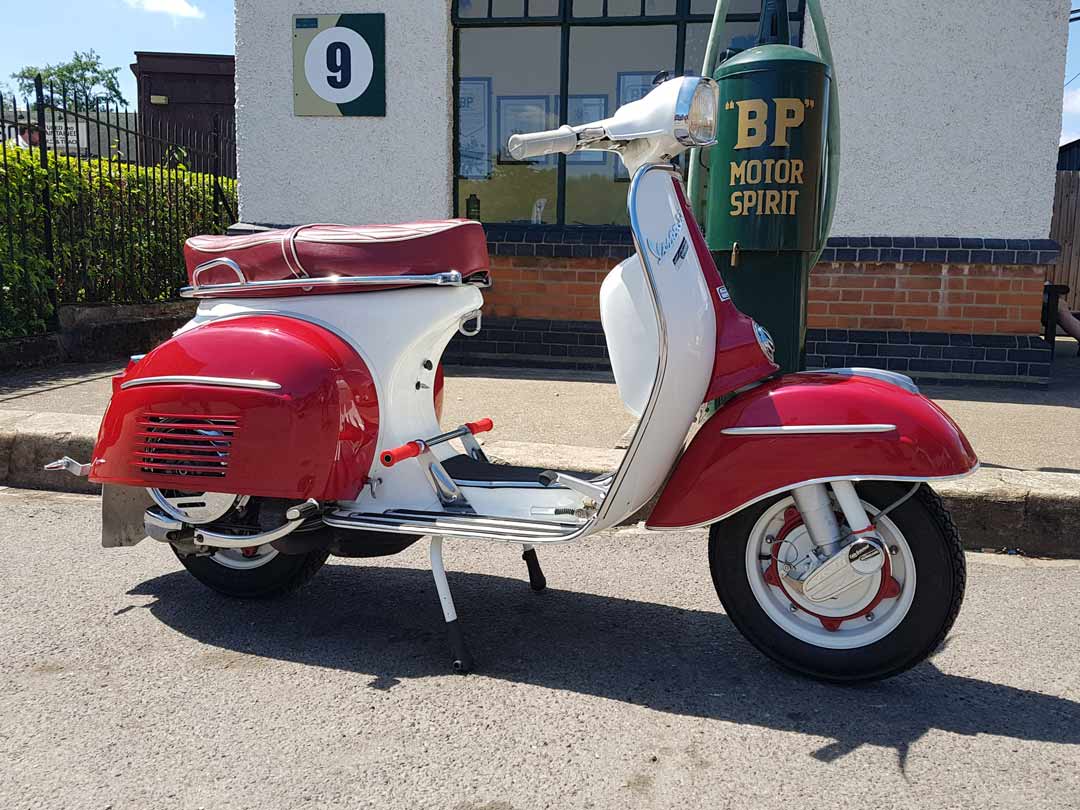 1955 PIAGGIO VESPA GS150 VS1 For sale
Price 1: SOLD - SIMILAR SCOOTERS WANTED
Price 2: N/A
- Sale Type: Client Sale
- Extremely Rare & Valuable Early VS1 With Headset Steering Stop
- Frame Number: VS1T 003369
- Engine Number: VS1M 002842
- Complete Professional Engine Overhaul
- European Supplied from the Factory
- Superb Investment Scooter
- Status: SOLD
- Please Contact us for more information
- UK Delivery from £50
- Worldwide Shipping Available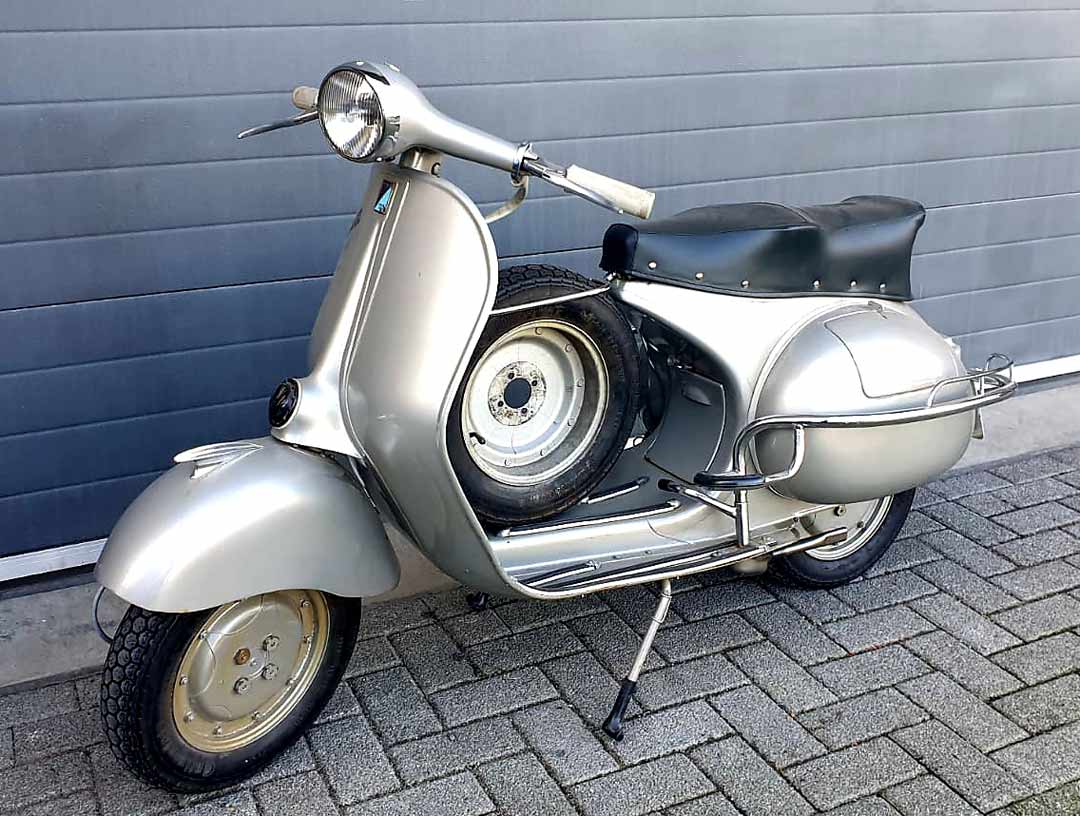 CSUK ARCHIVE - Previously SOLD Vespa Scooters